Our Mission
Chabad Jewish Center of Troy is founded on the principle that, while Jews embrace many levels of observance in their personal lives, there should be a place for all Jews - no labels, no affiliations - to develop a sense of community, to enhance the experience of being Jewish, to learn and to have fun. 
Chabad is just that place. By focusing on the individual's relationship to Judaism, Chabad appeals to all segments of the Jewish community. By offering a wide range of activities for adults, children and the whole family, Chabad follows many paths to enrich Jewish life in our community. And by bringing many different ideas together, Chabad can help you find The Jewish Community in your heart.
Our Directors
 Rabbi Menachem and Chana Caytak moved to Troy, August 2019 and are excited to be joining the local Jewish community. Moving from Brooklyn, New York, Rabbi & Mrs. Caytak, along with their little baby girl Chaya Mushka, look forward to working together with the Jewish community to promote Jewish awareness and observance of traditional Judaism in a modern world.
Rabbi Menachem Caytak
Born and raised in Ottawa, Canada, Rabbi Menachem Caytak studied in Rabbinical schools in the US, Israel and in the United Kingdom. 
After completing his studies, he was ordained by Rabbi Yitzchak Yeruslavsky Chief Rabbi of Kiryat Malachi, Israel.
Rabbi Menachem has always been active from a young age volunteering with outreach programs during his yeshiva years and working with Jewish youth.  As a student he would spend his Friday afternoons visiting Jewish shopkeepers sharing with them a Jewish thought or the chance to put on Tefillin. As his studies grew so did his commitment to enriching the lives of Jewish people. As an intern Rabbi, he provided educational programs and holiday events for the Jews in Kirkland Quebec, US Virgin Islands and Oklahoma City. Rabbi Caytak has also directed at a Jewish children's overnight camp in Kalkaska Michigan.
Mrs Chana Caytak
Born and raised in West Bloomfield, Michigan, Mrs Chana Shemtov studied in Cheder Lubavitch and CMHS.
From a young age, Chana has been involved in giving and volunteering to the community. For years, she has dedicated her time in helping kids with special needs, providing much needed warmth and friendship for those that where in need, through an organization called Friendship Circle.
After graduating High School she studied at the Beis Chana Women's seminary in Tzefat, Israel Studying Teaching and Education, and graduated majoring in Judaic studies.
As a successful organizer she directed camps in Plano, Texas, Toledo, Ohio and Kalkaska Michigan.
In addition, she taught at a Jewish School in Crown Heights, Brooklyn.
  FAQ
 Q: WHAT IS CHABAD?
A:  Chabad Jewish Center of Troy is one of more than 4000 branches of today's largest international organization involved with Jewish education and outreach programs.
Chabad and Lubavitch are in fact synonymous terms referring to the same organization. Embracing the philosophy of the Chabad Lubavitch Movement, which originated in the town of Lubavitch in White Russia during the 18th century, Lubavitch's underlying doctrine is "Ahavat Yisrael" (love for a fellow Jew). Chabad recognizes no differences between Jews; its goal is to serve the spiritual and physical needs of each Jew regardless of affiliation, wherever he or she may be, with understanding and with love.
By means of a rare combination that blends traditional Judaism with modern day techniques, Chabad has found the formula to develop a rapport with the most alienated of Jews and to enhance their outlook. By arousing an intellectual and/or emotional interest in our faith, Chabad has become the catalyst to connect Jews with their Jewish roots and revive the sparks of Jewish consciousness in the hearts and minds of each Jew.
There are no prerequisites for getting involved with Chabad, whether you are affiliated or not, have much Jewish background or none, you are always welcome to try one or all of our programs. We are here to serve you and we will do our best to help you and your family. You do not have to be a member at Chabad, you do not even have to agree with everything Chabad says or does - you just have to be Jewish - and you automatically belong.
Q: DO YOU HAVE TO BE ORTHODOX TO PARTICIPATE IN PROGRAMS OFFERED BY CHABAD?
 A: Chabad is inclusive and non-judgmental, and our programs are open to all Jews.  In fact, the majority of people who participate in programs at Chabad are not Orthodox.  The teachings of Chabad are imbued with the renowned Chassidic spirit and joy, but in no way is the commitment to an Orthodox lifestyle a prerequisite to one's acceptance at Chabad functions.
Q: IS THE GOAL OF CHABAD TO MAKE ME ORTHODOX?
A: Chabad is not out to make one Orthodox. Chabad is an educational organization dedicated to helping every Jew, regardless of background, affiliation, or personal level of observance, to increase their level of Jewish knowledge, enthusiasm, and commitment.  Chabad invites you to explore the complex areas of Jewish religion, tradition, and practice in an open-minded and non-judgmental atmosphere.  All of Chabad's classes, programs, and services are designed to heighten the awareness and lend valuable insight into one's heritage, traditions, religious practice, laws and rituals.  Each individual is invited to participate, study, and learn.  Each individual makes his or her own respective religious lifestyle decisions at his or her own pace. Each mitzvah stands on its own as an important step in ones personal growth.
Q: DOES CHABAD CONSIDER REFORM, CONSERVATIVE, OR NON-PRACTICING JEWS AS "REAL" JEWS?
A:  A Jew is a Jew is a Jew – period. Chabad avoids labeling other Jews, since it tends to divide and create barriers between us.  Jewish Law has traditionally considered anyone born of a Jewish mother or converted in accordance with Halacha to be a Jew, regardless of his or her degree of observance.  We have one Torah, we are one People, and we have one G‑d. Chabad endeavors to bring unity among the Jewish community through our common bond of Jewish faith and observance.
Q: IS CHABAD JEWISH CENTER OF TROY     FINANCED BY ITS HEADQUARTERS IN NEW YORK?
A: It is Chabad's policy that each center is supported by the community it serves.  All funding for local Chabad programs is solicited locally.  No funds are received from Lubavitch World Headquarters nor are any locally raised funds sent to Lubavitch World Headquarters in New York.  All funds donated remain right here in our community.
Q: DO WOMEN OCCUPY A SECONDARY POSITION IN CHABAD PHILOSOPHY?
A: Secondary? No! The high standing of Jewish women in Chabad is central to the survival of Judaism. As the cornerstone of Jewish family life, the woman can attain a profound and meaningful spirituality, one that fulfills her deepest needs and aspirations opening fresh perspectives on self-understanding, growth and Torah knowledge. Ignorance, misconceptions, and outright myths about Jewish women have prevailed until very recently, turning many people away from an appreciation of Torah and a traditional Jewish lifestyle. Chabad is working hard to correct those misconceptions.
CHABAD-LUBAVITCH
A philosophy, a movement, and an organization. It is widely considered to be the most dynamic force in Jewish life today, with over:
4000 CENTERS IN 102 COUNTRIES, DEDICATED TO THE WELFARE OF THE JEWISH PEOPLE WORLDWIDE.
THE MOVEMENT
Following its inception 250 years ago, the Chabad-Lubavitch movement — a branch of Hasidism — swept through Russia and spread in surrounding countries as well. It provided scholars with answers that eluded them and simple farmers with a love that had been denied of them. Eventually the philosophy of Chabad-Lubavitch and its adherents reached almost every corner of the world and affected almost every facet of Jewish life.
LEADERSHIP
The movement is guided by the teachings of its seven leaders ("Rebbes"), beginning with Rabbi Schneur Zalman of Liadi, of righteous memory (1745-1812). These leaders expounded upon the most refined and delicate aspects of Jewish mysticism, creating a corpus of study thousands of books strong. They personified the age-old, Biblical qualities of piety and leadership. And they concerned themselves not only with Chabad-Lubavitch, but with the totality of Jewish life, spiritual and physical. No person or detail was too small or insignificant for their love and dedication.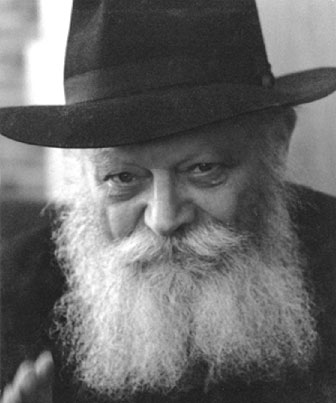 In our generation, the Lubavitcher Rebbe, Rabbi Menachem Mendel Schneerson, known simply as "the Rebbe," guided post-holocaust Jewry to safety from the ravages of that devastation.
Under his direction and guidance, thousands of young couples moved to all corners of the globe opening up Chabad centers worldwide in order to reach every Jew without condition, seeking them out of love.